About Our Cadillac Dealership In Springfield, MO
In 1919, George M. Thompson, Sr. was discharged as a Captain in the U.S. Army Quartermaster Corps, and he returned to Springfield with his bride Wilma to enter into business with his father, George W. Thompson.
Thompson Sales Company opened its doors for the first time on July 6th, 1919. This was two months to the day after George Senior completed his military duties. When George opened the doors of the business, the Company sold used tires and wagons.
Mon - Fri

8:30 AM - 7:00 PM




Sat

8:30 AM - 6:00 PM




Sun

Closed
Mon - Fri

7:30 AM - 5:30 PM




Sat

8:00 AM - 4:00 PM




Sun

Closed
Mon - Fri

7:30 AM - 6:00 PM




Sat

8:00 AM - 5:00 PM




Sun

Closed
Mon - Fri

8:00 AM - 5:30 PM




Sat - Sun

Closed
Mon - Fri

7:30 AM - 5:30 AM




Sat - Sun

Closed
George M. and George W. obtained a franchise for Racine Tires and opened Thompson-Racine Tire Co. at 417 St. Louis Street. This started a lasting association with Springfield and the Ozarks. Because the Racine "Country Road" Tire was guaranteed for an unheard-of 6,000 miles, they selected # 6000 for their phone number.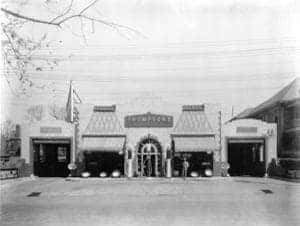 ---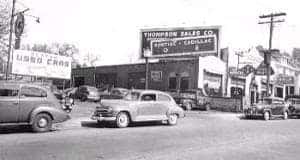 In 1923, the Racine Tire Co. merged with Ajax Tire Co., and the company name was changed to Thompson Tire Co. Along with the name change also came a new location. The business moved across the street to 423 St. Louis Street. Four years later in July 1927, Ajax merged with McClaren Rubber Co., and the Thompson's started selling McClaren tires. Even more important, Thompson Tire Co. obtained the retail franchise for Cadillac -- the automobile known as "The Standard of the World."
As 1928 rolled around, the need for additional room became more and more obvious. So, Thompson moved to a building at 300 Kimbrough St. With this new facility, the Thompsons were able to provide the first "drive-in/drive-out service" in Springfield.
The depression years soon followed, and it took a lot to keep the company going. In 1932, Thompson Tire Co. made the difficult decision to take on one more automobile franchise -- Pontiac (which had been purchased by General Motors from Oakland Carriage Co. only six years earlier). The organization now consisted of the tire business plus two automobile franchises.
In 1934, and with the need for additional space for the growing company, Thompson moved to South Kimbrough, one block south of St. Louis Street. At that time truck sales had expanded, and service was becoming a bigger part of the business.
In 1936, the last change in tire brand names was made when Dayton Rubber Co. bought McClaren. With this change, Thompson Tire Co. officially changed its name to Thompson Sales Company. The company eventually sold Covered Wagon house trailers, White trucks, Century boats, and James Motorcycles (English Paratrooper Bikes).
In June of 1955, Thompson once again moved into a brand new location at 727 East St. Louis Street. This new location was designed solely to sell and service new automobiles. Even though the move was less than a few blocks away, the new facility was a vast improvement over the Kimbrough location.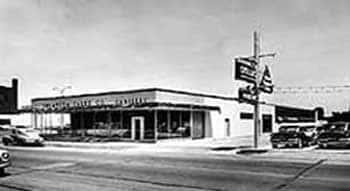 ---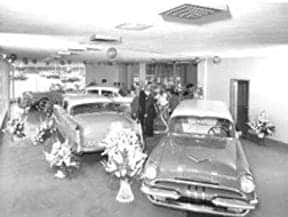 Between the years of 1956 to 1984, Thompson Sales saw few changes. However, in 1972 the founder, George Thompson Sr., passed away. It was only a short time later that it was thought necessary to leave the tire business behind and concentrate on selling and servicing the two fine General Motors cars for which we had been so privileged to have franchises.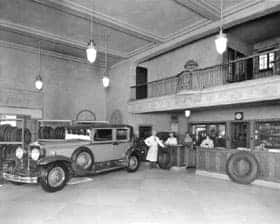 Also, at this time, George Thompson Sr., George Thompson Jr., and Milton Thompson were listed on the selling agreements with General Motors as Dealer Principles.
The Thompsons realized the need for growth again, and in 1984 the Service Department, the Parts Department, and the Sales Showroom were expanded with a major renovation increasing the existing building by more than 100%.
In 1987, Thompson Sales opened a second satellite sales location in South Springfield. Car sales continued to increase yearly due in a large part to our commitment to customer satisfaction.
The death of George Thompson Jr. in January 1991 spurred more changes by the Thompsons. Milton B. Thompson (Uncle Milt) was promoted to Chairman of the Board, Lynn Thompson was appointed President, and George Thompson III was appointed Vice President. As anyone familiar with the organization knows, George and Lynn operated on a level basis and their titles are strictly on paper only.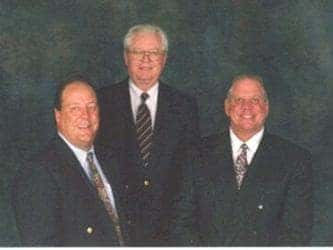 ---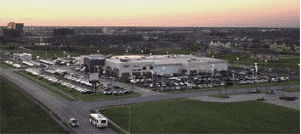 On July 1, 1996, Thompson purchased the GMC Truck franchise for the Springfield area and in 1997 added the GMC light-duty commercial truck line. Together the three franchises enabled Thompson Pontiac-GMC-Cadillac to assist customers with all of their automotive needs.
The start of the 21st Century marks another milestone for Thompson Sales with a move to their newly constructed 78,620 square foot facility in southeast Springfield. All departments of the full-service dealership are housed under one roof at 1555 East Independence Street.

The Thompsons added the SAAB franchise, a division of General Motors, to their family in June of 2003. Thompson added a Quick Lube center for maintenance items such as oil and filter changes, tire rotations, and more in November of 2003. Then to complete the lineup, on February 1st of 2006 Thompson added the Buick franchise to their company located at the state-of-the-art facility on Independence in Springfield.
The current location sits on 14 acres and includes a Quick Lube, a Modern Body Shop, a Service Center, a Parts Department, and plenty of room to display more than 900 New and Pre-Owned vehicles. The 76,000 square foot building has been remodeled twice since 2000 to make it more customer-friendly. We are very proud of this location and the way the building design allows us to best serve our customers. Currently, Thompson Sales is one of the highest volume Certified Pre-Owned General Motor Dealers in the Nation.
In March of 2019, Lynn Thompson turned the position of Dealer Operator over to George Milam "Miles" Thompson IV. Lynn continues to work at the Dealership as President of the Corporation and Executive Manager. However, he says it's the 4th generation of Thompsons who truly run the show.
George Thompson III passed away in 2017. Along with Lynn and Miles, the Thompson Family is currently represented by Tyler Thompson, Treasurer of the Company and General Manager; Troy Thompson, New Car Manager; Drew Givens (married to Emily Thompson Givens), Finance Director; Alex Thompson, Parts Manager; and Derek Lowrance (Lynn's stepson), IT Manager.