2023 Cadillac LYRIC Coming Soon
 
Turn heads when you drive the all-electric 2023 Cadillac LYRIQ
Move into the future with the 2023 Cadillac LYRIQ. This model is all-electric with no compromise needed. We will be taking LYRIQ orders soon. Get updates from us to learn more!
Captivating Features
Global Cadillac Vice President Rory Harvey said: "The 2023 Cadillac Lyriq's stunning design and artfully integrated technology combined with GM's Ultium Platform will deliver a high-performance luxury experience unlike anything that has come before it, setting a new standard for Cadillac."
The Lyriq will be run on one of General Motor's Ultium batteries. Its batter pack and rear-wheel-drive Ultium Platform will put out an estimated 340 horsepower and 440 Nm of torque. And, it will have over 300 miles of driving range on a full charge.
It's full-glass roof gives you a stunning view while descending to the roof spoiler. Light up the night with advanced LED lights. Aerodynamic lines not only look stylish, but they improve performance as well for a greater range. This sleek model will tantalize all your senses.
Innovative Style
Mesmerizing design is displayed with the Black Crystal shield instead of a traditional grille. This shield includes a 3D texture for the 2023 Cadillac LYRIQ while vertical taillamps harken back to the classic style of the brand. An illuminated Cadillac Crest captures your attention as it sits proudly on the grille.
Roll along in style on 20-inch wheels or 22-inch wheels for even bolder style, which come with low-profile tires. With these aerodynamic tires, the car looks like an artistic model in motion.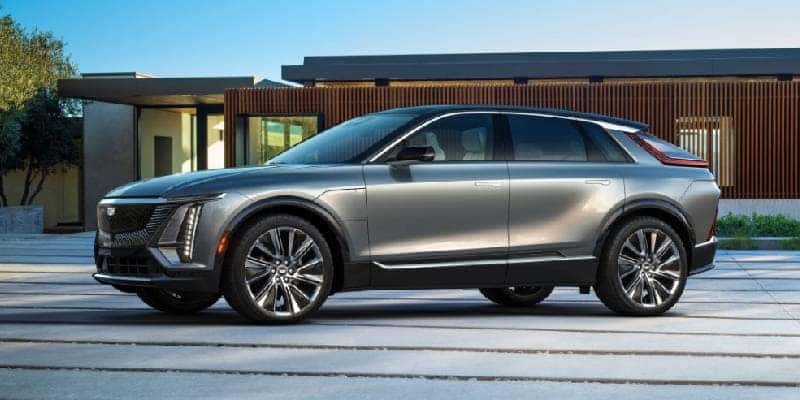 Create Your Own World
Sink down into comfortable seats in the 2023 Cadillac LYRIQ with your choice of Noir Inteluxe or Sky Cool Gray seats. Modern style is evidenced in aluminum accents. It's easy to tell the focus of the cabin is on the driver with the curved 33-inch diagonal LED display and easy-to-reach controls.
Simplicity in Sophistication
Cadillac removed everything that wasn't necessary for a simpler feel to the cabin. The result is a modern design to relax and energize you at the same time. Make this space your own with various textures and colors for the space. Embellishments add a personal touch as passengers stretch out to get comfortable. Active Noise Cancellation helps to create a quiet cabin to help you wind down or enjoy a nice conversation with passengers.

Moving Forward
Every journey in the LYRIQ provides an unforgettable experience with the 33-inch diagonal LED display. Enjoy a vibrant view with more than one billion colors to capture your attention.
This Cadillac's other features include:
Available Super Cruise
Curved 33-Inch Diagonal Advanced LED Display
AKG Studio 19-Speaker Audio System with Headrest Speakers
Active Noise Cancellation System
Slim-Line LED Headlamps
Choreographed Lighting Sequence
Black Crystal Grille
KeyPass Digital Vehicle Access
Dual Level Charge Cord
20-Inch Split Six-Spoke Alloy Wheels
Available 22-Inch Dynamic Split-Spoke Reverse Rim Alloy Wheels
Stain Steel Metallic and Stellar Black Metallic Exterior Colors
Sky Cool Gray and Noir Interior Colors
Rear-Wheel and All-Wheel Drive
Hands Off in the LYRIQ
Take your hands off the wheel with Super Cruise to take over the driving. This is the first true hands-free experience for Cadillac drivers. Use this system to drive for you over more than 200,000 miles of roads in the US and Canada.
Light Up the Night
Brighten your path with animated LED lights which get bright when you walk toward the LYRIQ or away with choreographed illumination. Enjoy this symphony which starts at the crest and continues all the way back. Enjoy further illumination with ambient lighting inside.

Premium Entertainment
Create your own soundtrack and listen to it through the AKG Studio sound system, which comes with 19 speakers. These speakers have been placed throughout the cabin for optimal listening, including in the head restraints.
Exceptional Power
Feel the power of a responsive motor for smooth acceleration with 340 horsepower and 325 lb.-ft of torque. Be one with the road in the Cadillac LYRIQ, which provides responsive steering.
Keep Going
The Cadillac LYRIQ can go up to 300 miles with a full charge. You can also add the dual on-board charging package, which allows you to charge at home or to use the DC fast charging in public. With the fast option, it only takes ten minutes to charge for driving up to 76 miles.
Continued Performance
Thanks to a lower center of gravity with weight equally distributed, you can enjoy a sporty drive in the Cadillac LYRIQ. This model features the Ultium battery as well.
Find out more about the 2023 Cadillac LYRIQ when you visit Thompson Cadillac.